Ajit Isaac
Non-Executive Chairman
Ajit Isaac has been instrumental in building Quess Corp into India's largest Business Services provider within a decade. A gold medallist and a British Chevening Scholar from Leeds University, he has spent over 10 years in leadership roles in the Private Sector. Taking over as the CEO & MD of Quess Corp (then IKYA), he was actively involved in partnering with Fairfax in 2013. Under his leadership, the company went public in 2016, with a record-breaking IP oversubscription of 144x. Ajit also actively involves himself in giving back to society. He played an active part in setting up the Careworks Foundation, which empowers over 14,800 students in 61 schools. He was also nominated for the 'India Forbes Leadership Award' in 2011 and was voted the finalist in the 2016 Ernst & Young Entrepreneur of the Year award.
Chandran Ratnaswami
Non-Executive Director
Chandran Ratnaswami is the CEO of Fairfax India Holdings Corporation and the Managing Director of Hamblin Watsa Investment Counsel. He acts as a Non-Executive Director of Quess. A B.Tech graduate in Civil Engineering from the Indian Institute of Technology, Madras he also holds a Master's degree in Business Administration from Rotman School of Management, University of Toronto, Canada. Mr. Ratnaswami has over 2 decades of experience in investment management. He has been a director of Thomas Cook India since 2012, and a director of India Infoline Limited since 2012. He also serves as a director of several insurance and non-insurance companies in India and abroad. He has been a Director at Quess since January 2016.
Gopalakrishnan Soundarajan
Non-Executive Director
Gopalakrishnan S. joined as a Managing Director at Hamblin Watsa Investment Counsel Ltd. Prior to this, he was the Chief Investment Officer of ICICI Lombard, the largest private sector property and casualty insurance company in India. He held the position of head of investments at ICICI Lombard from 2001 to 2018 and was a member of the investment committee. He holds a Bachelor of Commerce degree from the University of Madras, is a member of the Institute of Chartered Accountants of India and is a Qualified Chartered Financial Analyst ("CFA") and Member of the CFA Institute in the United States. He serves on the board of directors of Fairfax India Holdings Corporation, FIH Mauritius Investments Ltd, FIH Private Investments Ltd, Bangalore International Airport Limited, Anchorage Infrastructure Investments Holdings Limited, IIFL Wealth Management Limited and Primary Real Estate Investment Fund.
Revathy Ashok
Non-Executive, Independent Director
Revathy Ashok is an Independent Director of our Quess Corp. With over 3 decades of experience in the field of finance, she has held high profile positions in large corporations. Previously, she was the Director – Finance and Administration of TSI Ventures and the Chief Financial Officer of Syntel Limited. She was nominated as one of the women achievers by CII for Southern India in 2011. She holds a Bachelor's degree in Science from Bangalore University and a Post Graduate Diploma in Management from the Indian Institute of Management, Bangalore. She has been a Director at Quess since July 2015.
Kalpathi Ratna Girish
Non-Executive, Independent Director
Mr. K. R. Girish is a fellow member of the Indian Institute of Chartered Accountants and a law graduate from Karnataka State Law University. He is also an associate member of the Australian Taxation Institute and holds a Post Graduate Diploma in Taxation practice from M S University, Baroda. He has over 35 years of experience, including 18 years at KPMG (1997 to 2015) as Partner and Head of Tax for South India and National leader for Tax Dispute Resolution practice. Since then, he has been with Baker Tilly DHC, Leap Ridge Advisors LLP heading the Tax & Regulatory advisory practice. Presently, he is the owner of M/s. KR Girish and Associates, Chartered accountants and has substantial experience in advising on Transfer Pricing and related issues.He is also a founder member and Director on the Board of International Tax Research and Analysis Foundation (ITRAF), an independent and exclusive forum for tax policy research, analysis and support conducting research and analysis on important tax matters including those relevant to India.
Sanjay Anandaram
Non-Executive, Independent Director
Sanjay Anandaram has been an Independent Director of our Company since December 2015. He is a Bachelor's degree holder in Electrical Engineering from Jadavpur University in Kolkata and a Post Graduate Diploma in Management from the Indian Institute of Management, Bangalore. Equipped with over 28 years of experience in the industry, he has been a corporate executive, investor, teacher, and advisor to funds and entrepreneurs.
Gaurav Mathur
Non-Executive, Independent Director
Gaurav Mathur is the Founder Director at InVent Capital, a long term oriented investment firm and the CEO of Digital Gold India Private Limited, a leading digital gold platform. Prior to this, he has more than 15 years of experience in the private equity industry with India Equity Partners, as a co-founder and at JPMorgan, as a Principal. He has served as a Director, representing investors, on the boards of numerous companies, including Jubilant Foodworks, Manappuram Finance, Piramal Glass, Innovative Foods and MTR Foods.He has a Post Graduate Diploma in Management (MBA) from the Indian Institute of Management, Ahmedabad and a BA in Economics (Honours) from Delhi University. Known for being a pioneer in the Private Equity space in India, he brings a background of astute investing, nurturing and growing companies and creating tremendous value for shareholders over the years.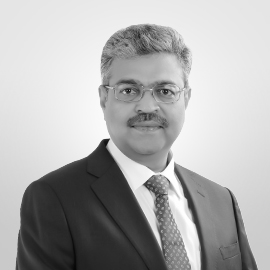 Guruprasad Srinivasan
Executive Director and Group CEO
Guru is the Executive Director and Group CEO of the company. A founding member, Guru was the fourth employee of the company. He has more than 25 years of industry experience, including leadership roles at GE Health, Hewitt Associates and People One Consulting. Guru is a Stanford Ignite Graduate from the Stanford University Graduate School of Business, in addition to having a Master's in Business Administration. Over the years at Quess, Guru has built the Work Force Management Platform to be an industry-leading one, set up the Shared Services Centre, integrated the Asset Management Business, and has been part of the team that takes key decisions at the corporate level. A natural leader, Guru has keen interest in photography and restoring Vintage vehicles.