Ajit Isaac
Non-Executive Chairman
Ajit Isaac has been instrumental in building Quess Corp into India's largest Business Services provider within a decade. A gold medallist and a British Chevening Scholar from Leeds University, he has spent over 10 years in leadership roles in the Private Sector. Taking over as the CEO & MD of Quess Corp (then IKYA), he was actively involved in partnering with Fairfax in 2013. Under his leadership, the company went public in 2016, with a record-breaking IP oversubscription of 144x. Ajit also actively involves himself in giving back to the society. He played an active part in setting up the Careworks Foundation, which empowers over 14,800 students in 61 schools. He was also nominated for the 'India Forbes Leadership Award' in 2011 and was voted the finalist in the 2016 Ernst & Young Entrepreneur of the Year award.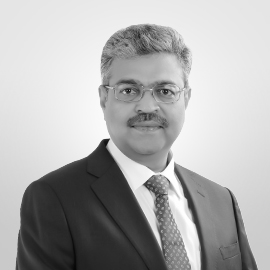 Guruprasad Srinivasan
Executive Director and Group CEO
Guru is the Executive Director and Group CEO of the company. A founding member, Guru was the fourth employee of the company. He has more than 25 years of industry experience, including leadership roles at GE Health, Hewitt Associates and People One Consulting. Guru is a Stanford Ignite Graduate from the Stanford University Graduate School of Business, in addition to having a Master's in Business Administration. Over the years at Quess, Guru has built the Work Force Management Platform to be an industry-leading one, set up the Shared Services Centre, integrated the Asset Management Business, and has been part of the team that takes key decisions at the corporate level. A natural leader, Guru has keen interest in photography and restoring Vintage vehicles.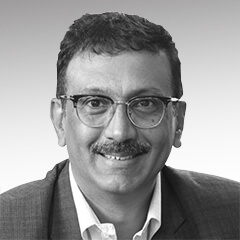 Ravi Vishwanath
Chief Financial Officer
An industry veteran, Ravi Vishwanath has over 30 years of experience in Finance, Taxation, Corporate Law, and M&A. His previous roles include that of CFO at TeamLease and Finance Director at Sun Microsystems-India. He was also the Co-Founder & Chief Financial Officer at Majoris Systems, a boutique IT services company that was later acquired by Valtech, a French technology consulting firm. He has also worked as a tax and regulatory and business advisory services professional at Arthur Andersen and PwC. Ravi is a Fellow of the Institute of Chartered Accountants of India and holds a Bachelor's degree in Commerce from Bangalore University. Outside of work, Ravi is an avid reader, a keen wildlife photographer, and a passionate golfer.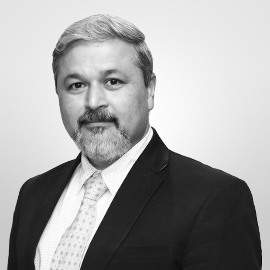 Lohit Bhatia
President - Workforce Management
Lohit has over 25 years of experience across industries such as Textiles, Auto Components, and Services with focus on product and services, sales and business development along with proficiency in manpower outsourcing programs with emphasis on managed services across industries. Lohit is currently the President of Quess' Workforce Management business, having joined Quess in the year 2011 as General Manager Sales for Staffing business. Lohit also serves on the Executive Board of ISF, a leading Staffing Industry Federation in India that represents over 100 staffing companies, since 2018. Lohit was elected unopposed as the President for a second term - 2022~2024 at the Indian Staffing Federation and has been interacting with industry leaders, employers, and the Government regarding the representation of the industry for both immediate and long term development of staffing in India while increasing formalization of the Indian workforce. An eminent speaker and industry influencer, Lohit has been a speaker on multiple forums, including the ASU GSV conference 2019 at San Diego representing the India chapter, the Yuwaah launch conference at New Delhi conducted by UNICEF in Nov 2019, and at many conferences conducted and hosted by the Indian Staffing Federation (ISF) across India.
Pinaki Kar
President – Global Technology Solutions
Pinaki Kar is the President of our Global Technology Solutions business and spearheads the IT Services & Staffing business, Business Process Management, and Customer Life Cycle management across India, US, Canada, and Singapore. Pinaki has over 24 years of experience in the industry and has an exemplary track record of driving growth in Global Technology Services. Pinaki worked at Zensar Technologies before joining Quess, where he was the President & Chief Executive of Infrastructure Management and Cloud Solutions. Before that, he was the CEO & President of Wipro Infocrossing, where he executed a gamut of roles spanning P&L Leadership, Geography Head, Sales & Marketing, M&A, and Corporate Development and Strategy. Pinaki holds a Bachelor's degree in Production Engineering from Jadavpur University and a PGDBM from XLRI Jamshedpur. He was the keynote speaker in leading industry forums like Gartner Summit and IDC Conclave. He has also represented the Indian IT Industry as a member of the Prime Minister's business delegation during the then PM's state visit.
Sekhar Garisa
Chief of Emerging Businesses and Corporate Development
An industry veteran, Sekhar joined Quess with around two decades of experience in business strategy and development. He drives People Services and new technology-based business efforts and manages the Strategy and Corporate Development group. He also leads the Monster and Digicare businesses. Before joining Quess, he was the Senior Director of Partner Development at Microsoft, where he was responsible for leading the company's go-to-market activities through their 10,000 strong partner network. Sekhar started his professional journey with P&G, working extensively on go-to-market initiatives that expanded P&G's distribution reach. He also worked briefly at McKinsey, where he advised some of the leading corporates on strategy and execution, and later with United Telecom as Vice President, leading corporate strategy, M&A, and new business development. He co-founded India's first sports specialty business, Sports365, along with some of India's sporting icons, leading it to become a category leader within a short time. He holds an engineering degree from NIT Warangal and a management degree from IIM Lucknow
Rajesh Kharidehal
Chief Business Officer
Rajesh Kharidehal is a Chartered Accountant with over 22 years of experience. He was part of a Global Leadership Program designed for corporate leaders from Stanford University and is Six Sigma green belt certified. He has held several leadership roles in Corporate Strategy, Business Finance, Subsidiary finance and also was responsible for building, consolidating and growing the shared service center in captive space. Backed by an extensive global experience including multiple onsite assignments in Europe and USA both in Business, Corporate Finance and Strategy, he has headed several cost optimisation initiatives, during his stint with Infosys and IBM.